Posted by Webmaster on 6/7/2016 to
News
Designing bathroom layouts is usually the domain of professional planners, but with a list of planning criteria at your fingertips, your bathroom floor plans can become a fully functional and practical bathroom. As it happens, a lot of house plans minimise the size of bathroom areas making designs for small bathrooms a big ticket item.
But before small bathroom floor plans can be drawn, the planner must review the needs of the residents, access to plumbing and electrical, and the physical structure and size of bathroom fixtures.
Bathroom floor plans checklist
Where is the entrance to the bathroom and can it be changed
What type of entrance door can you use
Where do/can the water pipes enter the room
Where are the drains
Is a toilet or bath needed in the bathroom
How big can the mirror be
How many people use the bathroom
How big and what shape can the vanity be
Where can an electrical outlet be positioned
What size and how many windows can be installed
Does the room need a skylight
What style of light/s are required
Does the room require an exhaust fan or heaters
How many towel racks are needed
What bathroom wall cabinets are required
What style and shape can the shower be
What type of shower screen door can be used
Small bathroom floor plans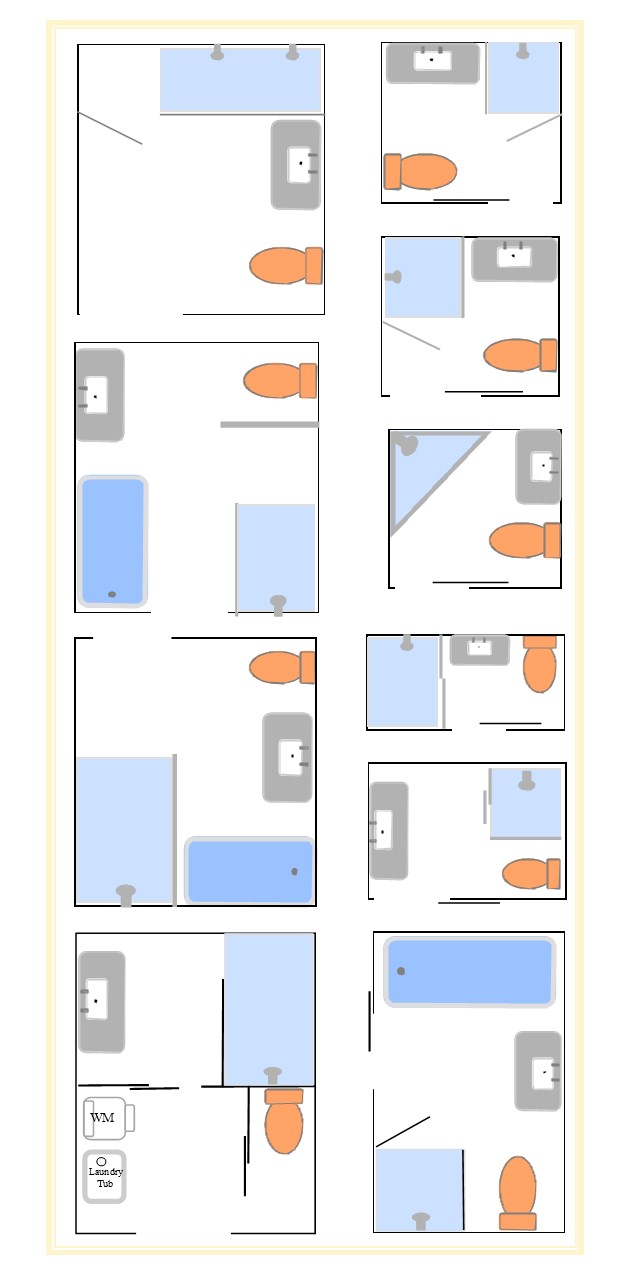 Best bathroom layouts: 15 Tips

1. Consider moving the entrance to the bathroom if it adds function or space
2. Swinging doors take up almost a metre of space, plan for a cavity slider
3. On raised floor systems pipes can enter wherever you decide. If you have underslab piping, 'chase' or recess the piping along the floor or solid wall to better position outlets
4. Allow for overflow drains and slope floors to make them useful
5. If the toilet is part of the bathroom, try to hide it from the entrance view or build a false wall
6. Discount bathroom vanities are tempting, but as they are the item most used in a bathroom, opt for a wide one
7. Get a mirror the same width as the vanity
8. Windows give natural light which reduces mould. Increase sizes and numbers and add skylights where possible
9. A couple of downlights is sometimes all a bathroom needs
10. Combination exhaust fan/heater bulbs are great space savers
11. If pressed for space use double towel racks and place them above one another ie one at 900mm high and another at 1800mm
12. Standard showers (900mm x 900mm) really are too small. Increase to 1100mm square or rectangular shapes
13. Sliding shower screen doors are practical, but rather outdated. Look for modern frameless or semi frameless shower glass
14. Limit tile colours/caps/freezes as they go out of date quickly
15. Line up floor and wall tiles for greater visual appeal
Small bathroom floorplans can be drawn successfully when all factors are considered. The bathroom layouts set out on this page are only a few of thousands available on the net, but anyone can draw designs for small bathrooms..go ahead and try it.
Source: http://www.kithomebasics.com/bathroom-layouts.html
SHOWROOM
3131 NW 79 AVE UNIT 2-3 DORAL FL 33122
SHOWROOM HOURS
MON TO FRI 9AM - 5PM / SAT 10AM - 5PM
WAREHOUSE
2205 NW 79 AVE DORAL FL 33122
WAREHOUSE HOURS
MON TO FRI 10AM - 4PM / SAT 10AM - 3PM